About Lead the Way Institute
Lead the Way Australia, based in Melbourne, Victoria, is an organisation dedicated to providing high quality clinical services to those in need (via the psychology clinic), and training fellow professionals in the art and science of delivering animal-assisted interactions (AAI) via the Institute.
Lead The Way Institute graduated their first class of visiting therapy dog and handler teams in 2006. As pioneers in therapy dog and AAI training in Australia, we have strived to set excellent standards in all that we do. We are proud to be the leaders, repeatedly providing our students with national 'firsts', such as the first course in therapy dog certification, the first advanced level training, and the first professional level certificate programme in CAI in Australia.
Our team of professionals are committed to ongoing learning and development, and strive to remain on the cutting edge of research and development in human-animal interactions, animal behaviour, and the human-animal bond.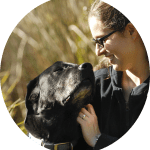 Melanie G. Jones
Melanie G Jones is a psychologist, animal-assisted therapist (AAT) and the director of Lead the Way. She is also a senior canine behavioural trainer, with extensive experience in therapy- and therapeutic-dog training and certification. Since 2002 Melanie has studied, worked, and taught in the field of animal-assisted interactions (AAI).
Melanie is also actively involved in research and development of AAI and AAT. For a list of Melanie's published work, please see her Linked In profile here.
Tanya Glasson
Tanya works as Lead The Way's operations manager. She is qualified as a senior canine behavioural trainer, veterinary nurse and practice manager with over 10 years experience training dogs from puppy school to social rehabilitation. In addition to her dog-training and management roles, Tanya develops and delivers the canine health and first aid modules on our courses.
Kim Hallworth
Kim is a qualified animal scientist, senior canine behavioural trainer with international certification (CPDT-KA) and pastoral care worker. She works as Lead The Way's senior therapeutic dog trainer. With extensive experience in dog training and management of dog training kennels and services, Kim oversees much of the development of our courses and classes for therapy dogs, emotional support dogs, and assistance dogs.  Kim is also trained in providing care and support (including AAI) to individuals experiencing trauma and disadvantage, giving her a unique perspective on the power of the human-animal bond.
Natalie Ladesic
Natalie is a qualified veterinary nurse, practice manager, and senior canine behavioural trainer. Natalie has over 10 years experience in practice management, whilst also developing a successful dog-training business.
Natalie provides administrative and training support to Lead The Way.
Denise Warmington
Denise is a Credentialed Mental Health Nurse and animal assisted therapist. She is also a professional dog trainer, and is completing additional qualifications in assistance dog training. Denise provides mental health support to clients individually (via our clinic) during courses (such as the emotional support dog programme) and via therapeutic dog training. 
Lead the Way Psychology Clinics
Child, Adolescent and Family Counselling & Psychology Services
In 2009 the Psychology Clinic opened, providing psychological counselling and Animal-Assisted Therapy (AAT) to children, adolescents and families. The Clinic, located in Boronia, provides quality clinical services to those in need across Melbourne's east, including the Dandenong Ranges. We provide clients with the opportunity to work with a range of Therapy Animals, including dogs, cats, horses and even a rabbit!
For more information, or to book an appointment, please visit our Psychology Clinic Website www.leadtheway.com.au